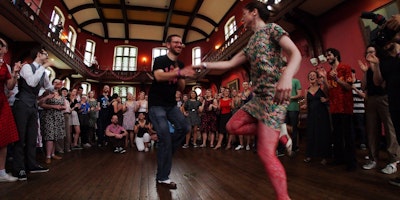 Tandem Trickery
Wednesday, August 2, 2017 from 7:45 PM to 9:15 PM (BST)
More Information →
Tandem variations are important social floor and competition moves.
Together again for a short summer series of Advanced Workshops, Madeleine and Al G will put you through your paces and get you trying out things that you've probably not thought about doing with your tandems!  
This workshop is aimed at those who would be in the Advanced stream at a weekend event - the teaching pace will be rapid but fun with an expectation that you'll be confident in your partner dancing. If you are unsure, ask a teacher at CCC, or OLX or email OLH. 
Tickets are couple tickets only so find yourself a dancing partner and come and join us!