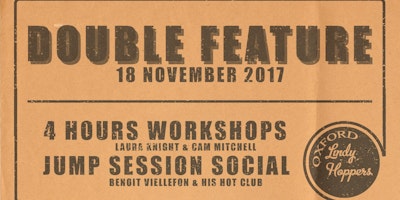 Double Feature Workshop with Laura Knight and Cam Mitchell
Saturday, November 18, 2017 from 11:00 AM to 11:30 PM (BST)
More Information →
Extend and develop your Lindy Hop as Oxford Lindy Hoppers welcome two fantastic Lindy Hop teachers to Oxford. If you are an Intermediate-Advanced (Level 3) or confident Level 2 dancer, these workshops are for you!
Class one (Two Hours) - Happy Feet - Fundamentals to make your Lindy Hop shine!

There will be loads to discover in this fun class for both level two and level three dancers. We will be working on developing and encahncing your fundementals to give you great foundations to make your Lindy Hop really shine whatever the music throws at you. 
Class two (Three Hours) - Some like it hot!

How to keep your cool when the tempo is hot! Learn some awesome moves and great techniques for when the music speeds up.
This session will focus on skills and techniques for faster music. To get the most from this session, you should be comfortable with combining 6 and 8 count rhythms and core moves such as the Swing Out, Lindy Turn, Lindy circle and Lindy Charleston. 
There will be two workshops, and the price of all tickets includes the social with live music from the amazing Benoit Viellefon and his Hot Club!  You can buy tickets for one or a combined ticket for both workshops.
The workshops will be followed by a social dance from 7:30pm. Tickets for the social only (£10) will go on sale on 18 October 2017.
Laura Knight
Laura began her dancing journey back in 2009. Before walking into a Swing Patrol class her only dance experience had been leaping about to punk bands. She was instantly hooked on the music, the people and the joy of Lindy Hop. She binged on dance classes attending four nights a week for pretty much the first year.
Laura has a real passion for Swing music and social dancing, you will see a focus on both these things in everything she teaches. She emphasises personal expression and a connection to both the music and your partner in dancing. Laura believes that social dancing is where magic happens.

Cam Mitchell
Cam found Lindy Hop in 2001 and is one of the most energetic and playful Lindy Hoppers around.  
With a strong passion for the social dance floor, Cam is constantly challenging himself (and his partner) for innovation and creativity and is always excited to see what comes out of the next dance.
Cam has taught all over his native  Australia and across the world including workshops and classes in Melbourne, Sydney, Perth, New Zealand, UK, Ireland, Norway, The Netherlands, Portugal and Germany and also a second time at the world famous Lindy Shock in Budapest, Hungary.
He places a strong focus on social dancing, rhythm, creativity and history (and of course fun!) in all his classes and is bound to leave an impression!
When: 18th November 2016
Where: The classes will take place at the East Oxford Primary School: Union Street (behind Cowley Road Tesco), Oxford, OX4 1JP.

Social Dance will be at:
St Columbas Church, Alfred Street, Oxford OX1 
 If you have any questions, drop us a line here: oxfordlindyhoppers@gmail.com (subject: Lindy Hop Workshop with Laura & Cam)
See you all on the dance floor!