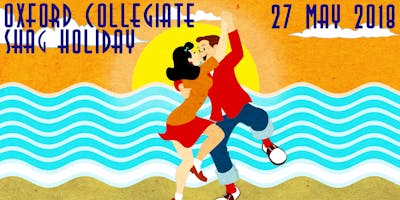 Oxford Collegiate Shag Holiday
Sunday, May 27, 2018 from 10:00 AM to 11:30 PM (BST)
More Information →
Develop and Extend your Collegiate Shag!
This is a special Collegiate Shag day in Oxford. You can enjoy 3 hours of workshops with two levels, and a live music social night to dance Shag, Balboa and Lindy hop! This a a great way to spend your bank holiday Sunday: full of swing spirit in Oxford. We have the wonderful instructors:
 

Peter Ayres & Aila Floyd  teaching  Improver/Intermediate Collegiate Shag

Al Marshal & Eleanor Stride

 teaching  

Beginner's intensive Collegiate Shag
 And we are putting on a social dance with the wonderful live band: Hot Swing Shoes
Subscribe to the Facebook event for more upcoming news!
Essential Info:
When is it? 27th May 2018
Where is it? The classes will take place at St. Michael's Church, Upper Hall, Corner of Banbury Road and Portland Road, OX2 7EZ
Social Dance will be at: Oxford Deaf and Hard of Hearing Centre, St Ebbe's, OX1 1RL
Venue: St. Michael's Church Hall, Corner of Banbury Road and Portland Road, OX2 7EZ. 
Tickets: You can buy a ticket just for the workshop; for the workshop and the social; or just the social dance!
Questions? If you have any questions, drop us a line 

oxfordlindyhoppers@gmail.com

 (subject: Oxford Collegiate Shag Holiday)
Levels:
Beginner's Collegiate Shag (from 10:00 - 13:15): No dance experience is required. Through this course, you will get to know how to dance Collegiate Shag basics in social floor. If you want to refresh your muscle before Intermediate class, you are welcome to sign up too! 
Improver/Intermediate Collegiate Shag (from 14:00 - 17:15): This level is designed for dancers who have danced at least 5 hours of Collegiate Shag. (e.g. Collegiate Shag Fast Track attendees). If you think you are fast learner, and have experienced couple of Collegiate Shag taster sessions before, you may sign up both level to challenge yourself. 
Teachers!
Who are Peter Ayres and Aila Floyd? Peter and Aila run weekly Collegiate Shag class in London called "Shag Pile". They are teaching Collegiate Shag all around the Europe, such as "Glasgow Shag Festival (UK)", "Warsaw Collegiate Shag Festival (Poland)", Barcelona Collegiate Shag Festival (Spain)", "Shag Ahoi (Germany)", "Shag the Winter Away (Denmark)". This is a great chance for you to spice your Collegiate Shag feet up without traveling far away from Oxford.
Who are Eleanor & Al M? Eleanor & Al M have taught beginners' Collegiate Shag classes for Oxford Lindy Hoppers. They have taught swing dance together longer than five years, not only Collegiate Shag, but also Lindy Hop and Blues. They will show their love and passion for Collegiate Shag through this class. See you all on the dance floor!