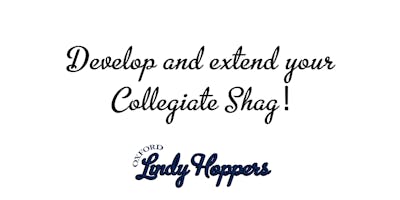 Develop and Extend your Collegiate Shag!
Saturday, September 22, 2018 from 2:10 PM to 5:00 PM (BST)
More Information →
This is a special Collegiate Shag Workshop.
You can enjoy 2 hours of workshops with two levels, and social&practice time after the class. 
Eleanor & Al will teach two workshops: one for Beginners and one for Improvers / Intermediates, and there will be a social dance afterwards so you can practice your new moves!
What is it?  Check out this video for an idea of what Collegiate Shag looks like: https://youtu.be/nbx0mKJxUEI?t=44s
When is it?  22 September 2018 
Where is it?  East Oxford Community Centre, corner of Princes Street and Cowley Road, Oxford,  OX4 1DD.
Tickets: Buy yours now on this page! Social/practice dance is included in the workshop ticket.
Levels:
Beginners' Collegiate Shag between between 14:10pm -15:10pm:  No dance experience is required. Through this workshop, you will get to know how to dance Collegiate Shag basics on the social dance floor. Please turn up five minutes early to get ready! 
Improver / Intermediate Collegiate Shag:  between 15:20pm -16:20pm: This level is designed for people who took beginners class on the same day, or who have previous experience of Collegiate Shag. This level is focuses on learning styling and variations of Collegiate Shag.  Please turn up five minutes early to get ready! 
Schedule:
14:00  Door opens
14:10 - 15:10 Fundamental (for Beginners)
15:10 - 15:20 Break 
15:20 - 16:20 Styling and variation (for Improver/Intermediate) 
16:20 - 16:50 Social & Practice
17:00 Door closes
Questions? If you have any questions, drop us a line oxfordlindyhoppers@gmail.com (subject: Develop and Extend your Collegiate Shag!)