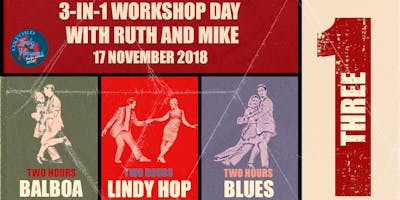 3-in-1 Workshop Day with Ruth & Mike
Saturday, November 17, 2018 from 9:50 AM to 5:45 PM (BST)
More Information →
We have something new & exciting for you in store this autumn: 3 dances, 2 teachers, 1 day! 
Oxford Lindy Hoppers proudly presents the big 3-in-1 Workshop Day with international instructors Ruth & Mike from Boston! Join us on 17th Nov for 2 hours Balboa, 2 hours Lindy Hop & 2 hours of Blues.

THE TEACHERS
Ruth and Mike are an exceptional teaching partnership, globally renowned for their dynamic energy, precise explanations, entertainment value, and ability to make detailed technique fun to learn. They are strongly committed to teaching equally to both follow and lead roles, and are known for teaching to follows even during topics that are often lead-focused.
Ruth and Mike are prolific choreographers, avid dance nerds, and enthusiastic social dancers. Between the two of them, they have taught not only a wide range of blues and jazz dances, but also Argentine Tango, lyrical dance, vintage ballroom dances, and much more.
They care about pushing blues and jazz dances forward as living art forms as well as staying strongly rooted in the origins of the dances. To this end, they study with people who have living connections to the dances, scrutinize old video clips, peruse books and old dance manuals, and train in current dance forms in the African diaspora.
Ruth and Mike both love carrot juice, smoky Scotch whisky, and philosophical discussions. Since they started traveling and teaching together, Ruth has started using the Oxford comma, and Mike has learned a lot about fancy cocktails. They have been known to swing out in museums, fishtail in grocery stores, and shuffle on train platforms. Check out ruthandmike.com/courses, facebook.com/ruthandmike, and youtube.com/ruthandmike.

Watch them at ILHC 2018 in August: https://www.youtube.com/watch?v=JC8ATckUGAo
For some Blues inspiration check out this: https://www.youtube.com/watch?v=yCNRFBT1hdI


THE SCHEDULE
Balboa 1: 10:00 - 11:00
Balboa 2: 11:15 - 12:15
Lunch Break: 12:15 - 13:00
Lindy Hop 1: 13:00 - 14:00
Lindy Hop 2: 14:15 - 15:15
Blues 1: 15:30 - 16:30
Blues 2: 16:45 - 17:45


THE LOCATION
The classes will be help at the East Oxford Community Centre (downstairs hall).

THE LEVEL
The workshops will be taught to multiple levels. They will be suitable for newer dancers and challenging for more experienced students. Here are the preferred experience levels:
You should be able to comfortably social dance a full song in each style to a variety of speeds and music.
For Balboa, it is ideal to know uphold and downhold basics as well as out-and-ins and toss-outs.
For Lindy, you should know 6 and 8 count patterns.
For Blues, you should be comfortable with pulse and step touch.